Just back from a trip to Barcelona with my family, where we went for much-needed R&R and inspiration (and the exquisite nourishment Barcelona is famous for). We were most excited to see all the Guadí works, and didn't get nearly to all of them. The monumental cathedral of Sagrada Familia is mind-blowing, and I didn't even bother taking pictures because they could do no justice, but here is a place where you can find plenty of pictures that also do no justice to the astounding amazingness of Sagrada Familia.
I did snap some pictures in the fantastic museum in the basement, that detailed what excited me most, the geometry behind the strange shapes:
We also spent time in the amazing Park Guelle.  A mystical place.  I mean, look at this.
I did grab a few entirely insufficient shots of Gaudi's amazing Casa Batlló:
Totally tourists, at the Park Guell:
Our home away from home in Barcelona.  Upstairs from Joanet, where lunch is both homey and to die for at the same time: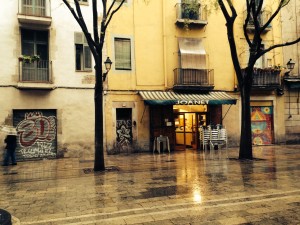 The mysticism of Barcelona has a lot to do with its natural setting. Franciscan monks were drawn to the unearthly mountain landscapes surrounding the city to build Montserrat and other monasteries.  And the whole region is swarming with pilgrims who hike and climb in these strange and mysterious mountains.