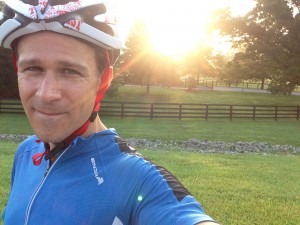 I'm going to have a long list of some serious thank-yous to give to so many wonderful, kind, spirited, and generous souls down here. One of whom is James Brown. No, not that one, another one, the Lexington cycling guru at Crankworks, who has outfitted me for the week with the best bicycle I've ever mounted, a two-wheeled rocket, so that I might better enjoy more of the broad beautiful horse country of Kentucky. I started with a sunrise ride through the Delong area yesterday. I popped a flat about a mile from home and my ride turned into a jog, but a lovely one. Very glad that nail was not sitting on the ground 10 miles away. Now we're repaired, outfitted with a patch kit, and ready for tomorrow's Kentucky inspiration.
It saves my life to have a bike to ride, as this is donut country. If you're going to have donuts, have them here, because they're incomparable.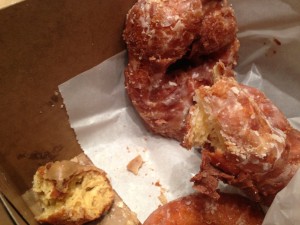 As well as lots of festival fine dining.
And of course the finest bourbon in all of the universe.
The local sandwich here is the "hot brown." It's turkey, bacon, fried green tomatoes, and greens, served open-face on rye, with mornay sauce. So tasty. It's a Kentucky thing that you have to try.