Just back from Paris where I got to hang out with my wonderful wife and daughter, to feast all the senses like you do in Paris, and to catch up with some friends, including nuevo-tango luminary
Eduardo Makaroff
 of
GOTAN Project
, and his beautiful family, and brilliant Paris-native composer
Jules Matton
, and to make new friends including Jules's novelist mother
Slyvie Matton
, and violinist
Rachel Koblyakov
.
I always find it really funny when the guidebooks, and many Parisians, try to make you think that no one in Paris wakes before 10am, when they go to the cafe, to eat a pastry, read the paper, maybe find out what's going on with the Tour de France, and then later go to the Louvre, before rounding out the day at the cafe again.  Who are we supposed to believe baked the pastry, opened the cafe, printed and delivered the newspaper, trained for the grueling Tour de France, and built the Louvre?  I went in search during a spontaneous dawn run to the Arc de Triomph.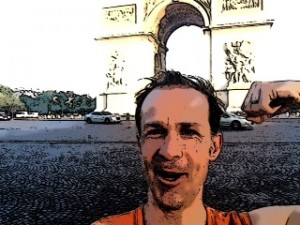 Honestly, Paris was pretty dead at that hour.   When do all these wonders take place?   My god it must be hard to live in Paris and keep up the pretense that your life is an easy breeze.  Now it's back to NYC and down to work on a new commission for the amazing tenor
Nicholas Phan
and the ensemble of the
Chamber Music Festival of Lexington
, where I'm excited to be
Composer in Residence
later this summer.  Looking forward to exploring horse country and, of course, Kentucky's Bourbon Trail.